Trackway Solutions have extensive experience working with events organisers to provide our aluminium trackway for outdoor winter events across the UK.
Whether you are organising a Christmas market, a temporary ice rink or a large Winter Wonderland on the grounds of a park or stately home, ensuring that you have a reliable trackway supplier is essential.
Our offer spans from the simple supply and installation of temporary flooring to support lighting and sound systems to full temporary power and site access solutions for large scale events.
Here is a brief overview of our hire services for winter events:
Site access and temporary flooring
Heavy rain, snow or ice in the lead up to your event can cause the ground to become soft and prevent vehicles and equipment from easily accessing the site, which can become a significant problem if it causes delays in the set up and build of your event.
Our 300kg aluminium trackway panels are strong enough to support equipment and vehicles of all sizes and weights, so if you're organising an event in a park or field, you may need to consider hiring trackway to help your suppliers reach the site during build and breakdown.
If you require temporary flooring to stand lighting and sound systems on, we can also supply our trackway panels to provide a stable, solid surface in any weather.
And if you will be setting up a car park for your attendees, our panels can be used both to protect the ground at the site entrances and exits, and for creating a fully covered car parking and delivery areas. For more information, read our previous article on trackway hire for temporary car parks here.
Reliable, high specification generators
Working with our sister company, Generator Power, we can also make sure that you have a reliable power supply in place for the duration of your event.
To make sure you only ever receive the most reliable equipment, we only use high-performance Atlas Copco generators, and each set is regularly serviced and tested prior to deployment. And because we have one of the largest fleets in the UK, with generators ranging in size from 20kVA to 1250kVA, you have the added assurance of availability of kit, regardless of the size of your event.
Visit the Generator Power website for more information about their services for winter events.
UK-wide network of depots
Both Trackway Solutions and Generator Power also have a network of depots spanning the UK, from Inverness to Reading, meaning that we can deliver a quality service right on your doorstep. We keep equipment (and skilled staff) in all of our depots, meaning that we can get to you fast. And because we can send kit from your nearest branch, we are also able to offer competitive pricing on delivery and installation.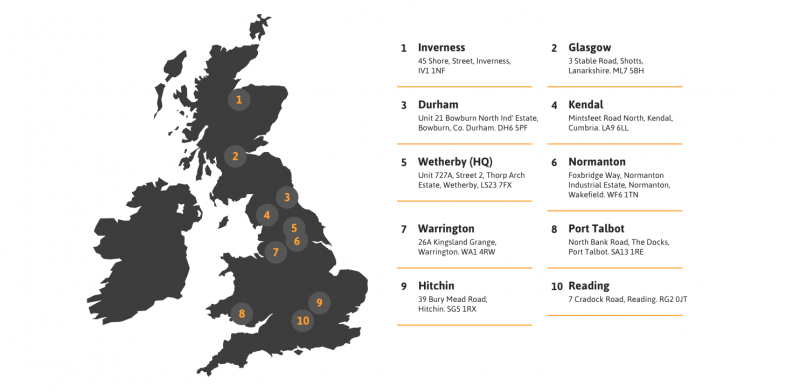 Project management
Our full turnkey solutions for events go beyond just delivering and installing equipment, also encompassing complete project management.
Your dedicated account manager will specify your exact requirements for site access and temporary power and manage the whole process for you. Liaising with credit control, hire desk, logistics and service, they aim to take the pressure away from you and make your hire as easy as possible.
Trackway Solutions are a specialist supplier with a wealth of experience in supplying and installing high-quality, robust aluminium trackway for outdoor events.
For more information about our previous work for the events sector, see our case studies here. Or to discuss your requirements for an upcoming project, call our team on 0845 241 8555 or request a call back.